When it comes to attractive landscaping, St Louis boasts some beautiful grounds surrounding homes, businesses, and rental properties. Some homeowners, on the other hand, can become so focused on the upkeep of their house that they can neglect the grounds that surround it. For families, rental property managers, and businesses in the St Louis area, there are many advantages to having beautiful landscaping that is done by professional contractors.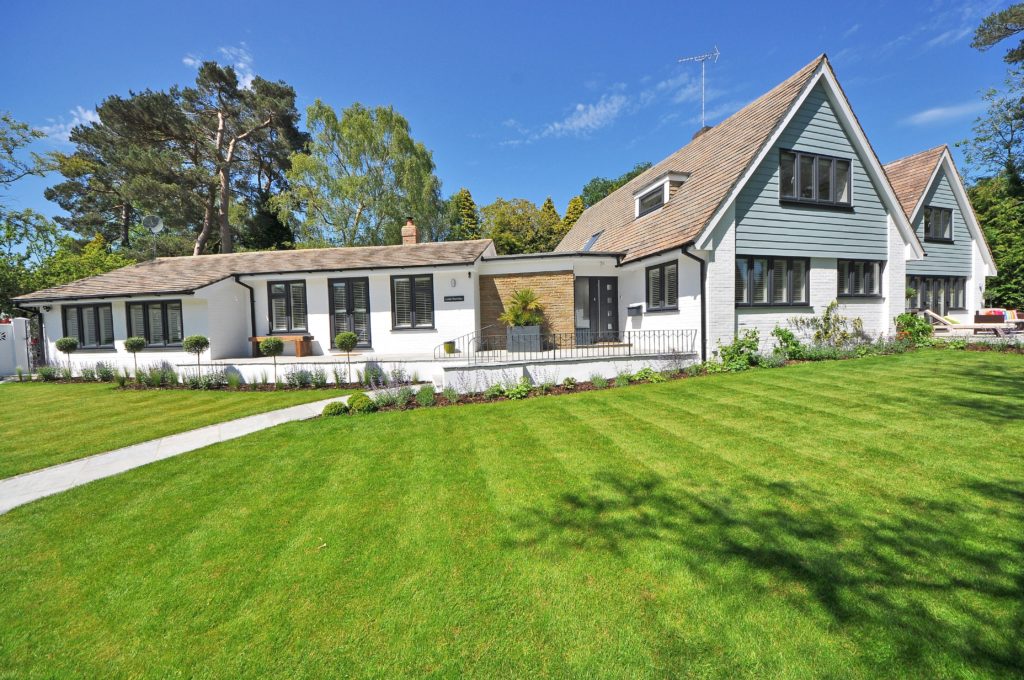 The Benefits of Exceptional Landscaping
By transforming their property with attractive landscaping, St Louis residents and businesses will be expending time or money. Landscaping and hardscaping companies are not exactly free, and even if you try doing it yourself, it will cost plenty in terms of time and energy spent on the project. Time and energy that could be spent laying back and enjoying your weekends or putting more time into your work. That being said, there are definitely some powerful benefits to having landscape work done and employing lawn care and maintenance services to keep it looking good. 
Curb Appeal
When you drive by a home that employs lawn care and maintenance services, it shows. You may go past several homes with browning grass, and then you see one with a beautiful lush lawn that makes a great impression. That being said, the lawn is only one aspect of landscaping. A comprehensive landscaping plan can include bushes, trees, flowers, and hardscaping companies can install features such as walkways, stone flower beds, retaining walls, or a pond. A well-done landscaping job can transform an average home into a one-of-a-kind, head-turning attraction on the street.
It Adds Value to Your Home
Not sure if you'll be living in your current home for long? Don't let that stop you from splurging on the best landscaping St Louis has to offer. It's believed that professional landscaping can boost a home's value anywhere from 10 to 20 percent. As long as you don't go overboard on your budget, you'll probably be getting much, if not all, of what you invest in high-quality landscaping work back when the day comes to sell.
It Can Accentuate Energy Efficiency
Depending on the features you want to be incorporated into your landscaping, St Louis homeowners and business owners can see reductions in energy costs. For example, strategically placed shade trees can save money on air conditioning in the summer months, which will add up over time.
Your Personal Satisfaction
Few things allow you to add as personal a touch to your home as realizing your landscaping dreams. Other projects, such as kitchen remodels, can certainly add enjoyment to your home as well. Your landscaping, however, will put a smile on your face every time you come up the driveway after coming home from a hard day at work. For businesses, it can make your establishment look all the more inviting to prospective customers. The employment of lawn care and maintenance services will keep all of it looking good over the long haul.
All the Different Aspects of Your Landscaping
When considering new landscaping, St Louis residents have many factors to include in such a decision. The most basic part of any landscape is your lawn. It's a relatively easy task to make this look its best by employing lawn care and maintenance services to regularly cut your grass and see to its watering and other care. 
The fun starts when you look at all the other elements that a comprehensive landscaping plan can entail. Hardscaping companies can install a small pond or other water feature that you can have flowers planted around to really set your home or rental property apart from the neighbors. They can install a walkway made from pavers and surrounded by flowers to make it both functional and beautiful. 
The biggest thing that landscaping requires is planning. You don't want to start work on something and then realize that you want to put some other landscaping feature in a given spot. Planning can take considerable foresight and knowledge, and it can help to seek out a professional landscaper. Most lawn care and maintenance service professionals, such as Allen Outdoor Solutions, will help you to plan, give you ideas, and often even have galleries of past customers that you can view to get ideas.
Do It Yourself or Hire a Contractor? 
There is a certain attraction to attempting landscaping on your own. There is the obvious reason of saving money, and if you're a perfectionist or a goal-oriented person, it could be a fun project for you. Deciding between DIY or hiring a professional will largely depend on how elaborate you're looking to get with your landscaping plans. If you just want to add a few bushes and flowers along the front of your home, that's more tenable on your own than hardscaping work that, unless you're a contractor yourself, you'll probably need to search out hardscaping companies to handle. For more demanding landscaping, St Louis residents will enjoy the following benefits by employing a professional, such as Allen Outdoor Solutions. 
Benefits of Hiring a Professional
Experience at Planning
When you hire a professional landscaper, this won't "be their first rodeo," as the saying goes. Presumably, they've done landscaping work for many others and boast an extensive portfolio. Some of these others may have had property similar to yours, so they've had a chance to see how various landscaping features looked elsewhere. They can give you ideas that may have never occurred to you as to how to arrange things and what they can do to maximize your budget.
Local Expertise
Perhaps you are new to your area. Certain plants or flowers may thrive better or worse, depending on location. When getting professional landscaping, St Louis residents or business owners are hiring their local knowledge as well. Landscaping is one area where relying too heavily on the internet may be disadvantageous. Authors giving advice may live who knows where, and advice for the best plant and flower choices in one area may not translate well to another.
Saving Time 
Let's be honest with ourselves; landscaping can take up a lot of time. This becomes all the more evident, the more sophisticated and elaborate the project is. If you are planning to tear up a lot of your grounds and installing plant and flower beds and other features, don't plan on having a free weekend in between work weeks for quite some time.
More Knowledgeable About Plants
Beyond the aforementioned local expertise about which plants will thrive best in your area, professional landscapers will also have a better idea about plants in general. They'll know which ones will look better when blended together and whether they'll complement the appearance of each other. They'll also be better at evaluating the soil in particular spots in your yard to know where it's best to put plants and flowers versus where it might be better to put hardscaping features. 
The Professional Landscaping St Louis Residents Need
Let's say you've decided to have some elaborate landscaping work done, and you know your best bet is to go with a professional contractor. Allen Outdoor Solutions offers the professional landscaping St Louis residents and businesses need and want. As one of the areas premier hardscaping companies and lawn care and maintenance services, they offer the breadth of services that enable homeowners and businesses to transform their properties into what they've envisioned. 
Hardscaping
When driveways, patios, retaining walls, decks, walkways, and other constructed aspects of a landscaping plan need to be implemented, the team at Allen Outdoor Solutions has the experience. They know how these structures fit in with the rest of a landscaping layout in order to create the best possible boost in appearance for your budget. 
Some structures are purely for aesthetics, while others have more important ramifications. Retaining walls, for example, are important for erosion control. They keep the soil in place, so it doesn't flow down into your lawn over time. Some hardscape features need to be built carefully. Some may direct water flow, and it's important that it's directed away from the home to avoid water damage. This is where working with landscaping and hardscaping companies like Allen Outdoor Solutions come in handy. They have about 20 years of experience in planning, building, and installing all the hardscape you desire.
Landscaping
The team at Allen Outdoor Solutions specializes in bringing to fruition the landscaping St Louis residents want. They know how to plan the layout of landscape features to maximize curb appeal and home value, all while staying within your budget. They work with homeowners and businesses to plan and implement just the right mix of plants, shrubs, and flowers to enhance your home or business, so everyone will be blown away by how beautiful it is.
Lighting
When landscaping is done right, it also looks good at night. It takes a professional eye to see where to place lighting to maximize your property's appearance in the evening, as well as knowing what type of lighting would be best. The team at Allen Outdoor Solutions knows where to put lighting to boost the aesthetics of the property while also enhancing safety and security. Your family, friends, and visitors will have no missteps on walkways or driveways when the lighting is set up and installed by Allen Outdoor Solutions. Also, when potential burglars or others up to no good see a well-lit property, they typically move on to a home that they perceive as an easier target.
Lawn, Tree and Shrub Care
The job isn't over after the landscaping is initially put in place. To look its best, it requires regular upkeep. This is why Allen Outdoor Solutions offers tree, shrub, and lawn care and maintenance services. Their lawn care is second to none. They'll dethatch, aerate and overseed your lawn in order to maximize the growth of existing grass and keep bald spots from forming. This is complemented with soil testing, fertilization, and disease management services, as well as weed and pest control. They install sprinkler systems for routine watering and regularly cut your grass to keep your lawn looking its best. 
Their tree and shrub planting services include regular pruning of limbs and removing any plants that aren't doing well and planting new ones. One important service related to landscaping St Louis resident's need is tree removal. Depending on the size of the tree, this task can be a bit much for homeowners or business owners to handle on their own.
Fencing
When in need of landscaping, St Louis residents may be considering fencing as well. As with all other aspects of your landscaping, St Louis homeowners and business owners will be glad to hear that Allen Outdoor Solutions is your all-in-one fencing solution as well. Whether you want invisible fencing, metal fencing, vinyl fencing, or more traditional-looking wood fencing, they do it all. Their experienced pros can put a fence around your entire yard or your pool, or perhaps you need one for design purposes around certain hardscaping features. 
Working Within Your Budget and Delivering Guaranteed Work
Allen Outdoor Solutions works with homeowners, business owners, and rental property managers to deliver the desired landscaping results while staying within their budget. One way they accomplish this is by choosing between installing your landscaping all at once or doing it in phases. If you don't have enough to do everything now, they can get what work you're able to budget for done now, and then they'll come back and finish it when you desire. 
It is this willingness to work with their customers that has earned them an A+ rating with the Better Business Bureau and why they have an A rating on Angie's List. They have the mix of landscaping, hardscaping, lawn care, and maintenance services that residents in the St Louis area want to enhance the appearance, value, and tranquility of their home. 
When you deal with Allen Outdoor Solutions, you'll know you're working with a lawn care and maintenance services company that has been around for a long time and will be around to stand behind any work they do for you. They offer the best warranties in the industry. Their workmanship warranties cover plantings for six months after installation, and their lawn care and maintenance services warranty guarantees to hold the care up to a certain minimum standard. 
For the best landscaping, hardscaping, lighting, fencing, tree and shrub care, and lawn care and maintenance services company in the St Louis area, please give Allen Outdoor Solutions a call, or fill out the contact form on their website. The main thing you need to know about landscaping in St Louis in 2020 is that there is one reliable, professional company that can get the job done to your specifications and within your budget.
---