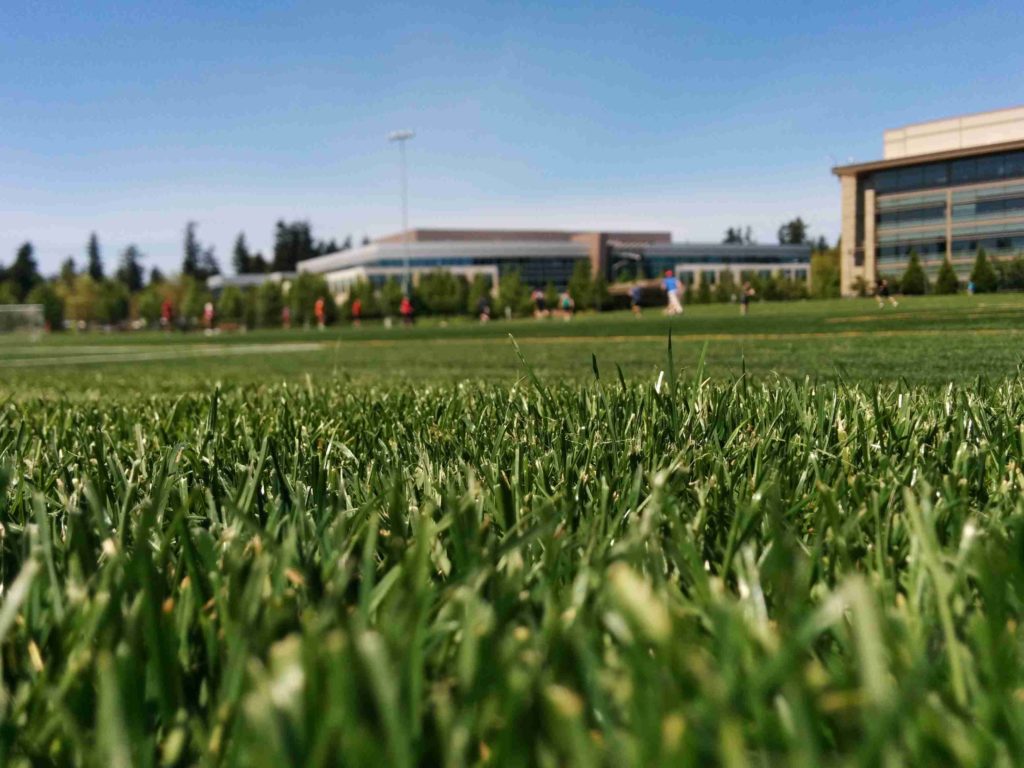 The Importance of Lawn Irrigation St. Louis
You probably enjoy having a thick, lush, and green lawn. You may entertain on your lawn, your children may enjoy playing in the soft grass, and a beautiful lawn adds something special to your home. The best way to achieve the lawn you desire is with an irrigation system from one of the irrigation companies in St. Louis, like Allen Outdoor. Not only will you give your lawn water required for growth and health, but you will also be saving hard-earned money. When you manually water your lawn, you are most likely missing certain areas. You may even inadvertently water your sidewalk or driveway.
Outdoor lawn care, including an irrigation system, will make certain you are giving your lawn the right amount of water in all of the right places when your lawn requires water the most. The best irrigation companies in St. Louis, MO understand the consistency offered by irrigation. You will be unable to achieve this with either moveable sprinklers or your hose. You will discover a lot of new benefits once you start using an irrigation system including:
Maintaining hydration throughout your lawn
Ensuring a healthy, lush lawn
Saving precious time
Protecting your lawn from dryness and damage resulting from excessive heat
Watering efficiently without overwatering to save money
Signs Your Lawn is Not Getting Enough or is Receiving Too Much Water
Many homeowners do not know the signs their lawn is being inadequately watered. If there is not enough moisture in your soil, your plants may turn a bluish-purple color. If you walk across your yard and can still see your footprints for a couple of hours, your lawn requires more water. When your grass has sufficient water, the blades of grass will spring back almost immediately. When the weather is windy or sunny, your grass needs more water as opposed to cloudy days with less humidity. According to the University of Missouri, you will see the most evaporation in July and August.
Long, dry periods can result in large cracks in the ground, loss of grass, and dry soil. The average homeowner does not understand all of the weather conditions in St. Louis. This is the main reason your best possible option is an irrigation system. Your lawn will always receive the correct amount of water regardless of the season or weather conditions. Your outdoor lawn care routine will be simpler to give you more time to enjoy the outdoors. Irrigation companies in St. Louis, MO have the experience and skill to determine which type of irrigation system will work best for your individual needs. The signs of under-watering your lawn include:
Dry soil
Slower growth
Wilting and dry grass
Your grass will not instantly spring back
The signs of overwatering your lawn include:
Limp grass
You lawn stays soggy longer
You will need to mow more frequently
Susceptibility to disease including brown patches and root rot
Irrigation companies in St. Louis, MO will professionally install a combination of a sprinkler and irrigation system to even out the color and thickness of your lawn and provide you with the best possible benefits.
A Sprinkler System is Imperative for the Health of Your Lawn
The only way to ensure your lawn remains green all summer long is lawn irrigation in St. Louis. An automatic sprinkler system is one of the best ways to ensure your lawn receives proper irrigation, whether your lawn is incredibly large or exceptionally small. Irrigation companies in St. Louis, MO will make certain you have a dependable sprinkler system no matter what kind of budget you are working with. Outdoor lawn care is even easier due to the technology resulting in smart lawn sprinklers. Your smart sprinklers are capable of monitoring the weather.
Your sprinklers will not water your lawn when it has been raining to save you money and prevent over-watering. A basic underground sprinkler system places the control in your hands. You are the one who decides when you want to water your lawn. The piping for your sprinkler system will be buried by one of the irrigation companies in St. Louis MO a full 12 inches beneath your soil. The placement of your sprinkler heads is strategic to ensure you receive excellent results. Due to retractable heads, the days of tripping over sprinklers are in the past.
As your water flows through your pipes, pressure is used to push your water upwards through the soil. Once the pressure stops, your sprinkler heads will retract automatically. The professionals offering lawn irrigation in St. Louis will discuss the different types of sprinkler heads available based on your specific needs. Your outdoor lawn care has never been easier. You have access to an electronic control to determine when your water is activated through the opening and closing of valves. Many of the irrigation companies in St. Louis, MO recommend a rain sensor.
Your controller will know when it is raining to prevent your sprinkler system from watering your lawn. Lawn irrigation in St. Louis requires taking care of your lawn in the most efficient, least expensive, and most environmentally beneficial means possible. The final result is the lawn you have been dreaming about and the easiest outdoor lawn care you can imagine.
The Specifics of Sprinkler Systems
Your sprinkler system is operated using an electronic controller. Irrigation companies in St. Louis, MO bury a box beneath your lawn. Your box contains the valves necessary for attachment to your electronic controller. Your box divides water into sections, with each sectioned controlled by one of your valves. You will know your lawn is receiving the correct amount of water in each section because your valves are released separately, depending on which areas of your lawn require water. If you are on a strict budget, you can still simplify your outdoor lawn care with a less expensive system.
All you need to do to care for your lawn with a less expensive system is push a button to turn your sprinkler system on and off. Your outdoor lawn care will still be a lot more effective and economical than watering your lawn manually. You should not experience any difficulties in taking care of your sprinkler system. Irrigation companies in St. Louis, MO will install your system properly to ensure very little maintenance is generally necessary. You can keep your system operating efficiently simply by cleaning out the grass and dirt accumulating in your sprinkler heads every few weeks.
If your sprinkler heads become stuck, it most likely means you need to clean them. Lawn irrigation in St. Louis will also winterize your system for the cold Missouri winters. During daylight savings time and if you lose electricity for a long period of time, you will need to reset your controller. Irrigation companies in St. Louis, MO can install a sprinkler system based on both your budget and specific requirements. Professionals will even contact your utility company prior to installation to determine the location of your gas and power lines to ensure you remain safe.
The Outdoor Lawn Care Required for a Beautiful Lawn
Outdoor lawn care is about a lot more than just irrigating your lawn. Irrigation companies in St. Louis, MO offer a wide range of services including mowing, fertilization, managing disease, dethatching, controlling weeds, and testing your soil. To ensure a beautiful lawn, you need to have it detached, overseeded and aerated every once in a while. As time passes, thatch or dead grass accumulates beneath your lawn. This layer prevents water and sun from getting to your new seedlings. Thatching is the process of poking holes directly into your soil to provide access to the roots of your grass.
Good outdoor lawn care also means your lawn needs to be overseeded. You can eliminate the look of bald spots by sprinkling new seeds throughout your lawn. The process helps ensure your healthy and lush lawn is maintained correctly. You can prevent the majority of diseases simply by maintaining your lawn. Irrigation companies in St. Louis, MO also understand the importance of fertilizing and testing your soil when necessary. According to this lawn care calendar, the only way to ensure healthy growth is by determining the correct pH level for your lawn.
If testing shows your lawn is either too acidic or alkaline, your lawn's pH can be corrected prior to any damage being done to your lawn. Your lawn needs certain nutrients for healthy growth. If your pH level is off, your lawn may stop growing, grow extremely slowly, become diseased or you may start to see brown grass and bare spots. All of these issues can be eliminated through the use of pH testing by a lawn maintenance program. To properly maintain your lawn, both pest and weed control is extremely important.
A lot of homeowners are uncertain which weed-killers and pesticides are not only effective but safe for pets and children as well. The last thing you want is for anyone to become ill from a pesticide you believed was safe. You also do not want to risk your lawn being damaged by certain pests. If you are uncertain which products are safe for your family and your lawn or you simply do not have enough time to give your lawn the care it requires, your best option is having your lawn maintenance performed by a professional.
Trees Drastically Affect the Appearance of Your Lawn
Trees and shrubs add beauty, charm, and shade to your lawn and your home. There are steps you need to take to maintain the health and beauty of your trees. Your tree branches will occasionally need to be trimmed to prevent any injuries or damage to your home due to falling tree branches. Outdoor lawn care for your trees and shrubs requires planting new shrubs or trees. In some cases, one of your trees may become diseased and need to be removed. Pruning and trimming your shrubs and trees will maintain the shape and keep everything healthy. You can also help stop any branches from falling when least expected.
You do not want the shape of your shrubs and trees to be so unique you are actually compromising their health. You can still have everything shaped in such a way you find the look aesthetically pleasing. If any of your branches become infected by a disease, trimming the branches quickly can help preserve the health of your tree. The process will bring out the natural beauty while helping to prevent the disease from spreading. When you have any dead branches pruned, the healthy areas of your tree will receive the water and sun they need to really thrive.
One of the most important things to consider is the safety of your family. Professionals are trained to see any branches getting ready to fall. Unfortunately, falling branches can damage your utility lines and knock out your power. Low hanging branches should be removed to prevent injury. You also need to be aware of any cracked or crossing branches for your safety. All of these issues can be eliminated by having your trees and shrubs properly maintained by a professional. If you enjoy spending time outside, you may also want to have new trees planted for the cooling shade.
There is nothing quite as delightful as shade when you are hosting an outdoor barbeque or your kids are playing on your lawn. You can even save money on your monthly electric bill by planting shady trees near your air conditioner. Your best options are species native to St. Louis. If you are interested in non-native or exotic species, you either need to do a lot of research or hire a professional tree service. These types of shrubs and trees will require very special care. There are lovely trees and shrubs available that will not only fit within your budget, but they will also improve the curb appeal for your home.
Removing a stump from the ground is difficult and requires a lot of hard work. If one of your trees has fallen, you will need to have it removed. If one of your trees causes any damage to your neighbor's property or someone's vehicle, you will be held responsible. Maintaining your lawn, shrubs and trees have a lot of benefits. There is no doubt you will be proud of a beautiful lawn and landscaping. Even more important is the safety aspect. Proper maintenance will help keep the people you love safe. In the long-run, nothing else is anywhere near as important.
---