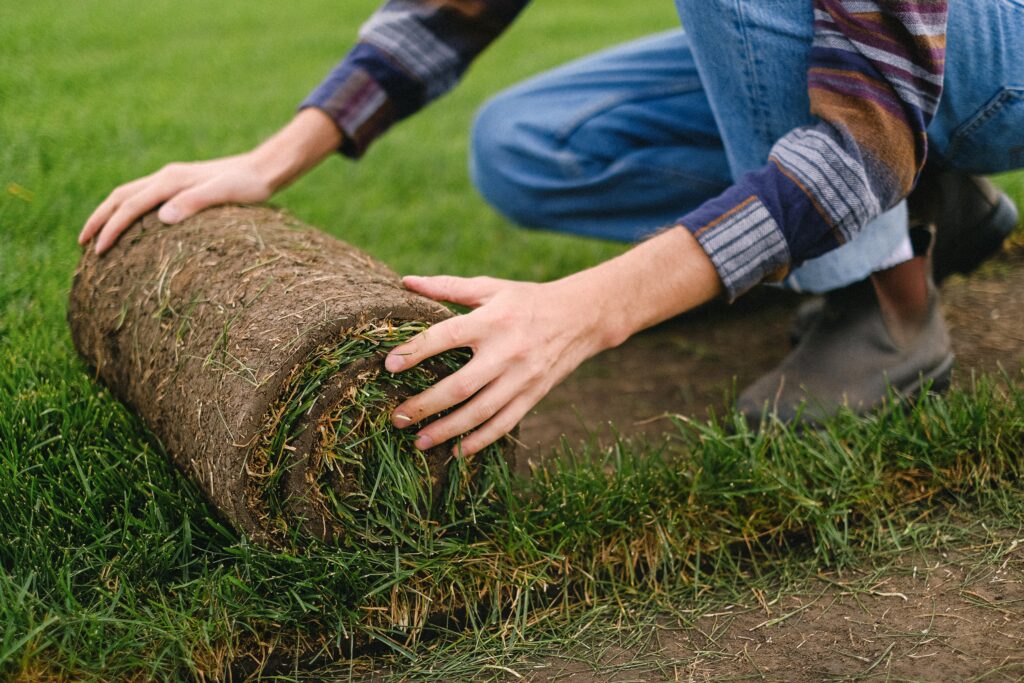 If you want a healthy lawn around your home or business, then you probably talk about that openly with friends, family, and acquaintances from time to time. Have any of them suggested sod installation in St. Louis? Having that done and then following it up with one of the available lawn sprinkler systems in St. Louis might just be the trick to starting and keeping a lush and lovely landscape on your property. Don't know where to start? No problem! We're here to give you all the information you need to get started with sod installation in St. Louis. Let's start with some basic definitions.
What Is Sod?
Some people use the terms sod and grass interchangeably, but sod is a little more than just grass. It does have grass, but it also has a small portion of soil underneath. That soil might be held in place by:
The root system of the grass

A thin application of biodegradable material

A combination thereof
Sod is often delivered by professionals in rolls or squares for easy and quick installation. Much like a contractor might put flooring in your kitchen using tiles, a professional sod installation in St. Louis crew can cover your terrain in one day.
Benefits of Sod Installation in St. Louis
If you're not sure what the advantages might be for getting sod installation in St. Louis, then we have a few for you to consider:
Immediate Lawn

: Seeding your lawn might mean waiting weeks before you see the grass actually grow in, and it might look patchy along the way. Using a sod installation in St. Louis service means you can skip the straw and unsightly materials necessary to protect your seeds.

Use It Sooner

: Since your grass will already be grown, you can use your sodded lawn faster. If you have kids or pets that want or need to spend time running free, sod installation in St. Louis means you can let them do so faster without worrying about anyone trampling your seeds.

Less Water Needed

: A sod installation in St. Louis doesn't need as much maintenance. While routine irrigation is necessary for enough moisture to establish the sod in place, it isn't likely to dry out as quickly. In fact, sod might only need to be watered twice a day to maintain moisture, which is less work for lawn sprinkler systems in St. Louis.

Protect Your Soil

: Sod covers your soil entirely and keeps it in place, whereas seeds sit on the top and might get blown away. Soil that gets locked down faster is less mud or dirt tracked into your home or business.
Other Lawn Care Services That Support Healthy Lawn Growth
If you're going to spend the money involved with sod installation in St. Louis and then support it with one of the lawn sprinkler systems in St Louis, then you should also pursue other lawn care services that support the healthy growth of your lawn, including these possibilities:
Illumination

: Once your sod installation in St. Louis is done, you want to make sure everyone can enjoy it. For that matter, if you are often out at work or doing errands during winter daylight, having yard lighting might be the only way you can see how your yard is doing when you're actually home during the long, cold nights.

Lawn Sprinkler Systems in St. Louis

: Irrigation is crucial to lawn care, and choosing from the many lawn sprinkler systems in St Louis means you'll make it much easier to keep your terrain fresh.

Automated Technology

: Using modern "smart" technology when implementing one of the lawn sprinkler systems in St. Louis means that you can program it to maintain the right amount of moisture without overwatering.

Fencing

: This is optional, but there can be benefits. Fencing might keep animals from tearing up your sod installation in St. Louis while also keeping playful children and energetic pets inside the yard. If the fencing is solid and high enough, it might even keep your lawn sprinkler systems in St. Louis from inadvertently spraying the yards, cars, and homes of your neighbors.

Landscaping

: The right landscaping doesn't provide your yard visual aesthetics but also makes it obvious where to have your sod installation St. Louis laid out. It will even help determine where to have lawn sprinkler systems in St. Louis installed, as well.

Hardscaping

: While a sod installation in St. Louis can introduce a vital living element to your yard, hardscaping can help you out as well. For instance, a retaining wall might combat erosion, so you don't have to worry about your lawn sprinkler systems in St Louis causing a mudslide on a slope.

Caring for Trees and Shrubs

: Your sod installation in St. Louis might not last long if it has to compete with trees and shrubs. That's not to say you can't have them, and your lawn sprinkler systems in St. Louis can make sure every plant gets enough water. However, regular pruning can help balance competition for soil nutrients and sunlight.

Drainage

: This has to be paired with any one of your options for lawn sprinkler systems in St Louis because excess moisture can risk damage to your basement and foundation. Any water your sod installation in St. Louis doesn't use needs somewhere to drain to.

Gutter Cleaning

: Your gutters might not be something you think about in terms of your yard health, but backed-up gutters can result in water spilling out at random spots and flooding the soil in certain spots. Any plants there might drown or suffer root rot.

Leaf Removal

: Even if you don't totally get rid of your leaves, it's good to mow them into tiny pieces and distribute them over the yard as mulch for nutrition in some cases. Just leaving them can mean blocking sunlight and moisture at a time of year when they are badly needed. Even the best lawn sprinkler systems in St. Louis are just going to land water on top of downed leaves when it's needed underneath.

Pressure Washing

: It would be so nice if you could just aim your lawn sprinkler systems in St. Louis at your home to have them clean off the walls and windows, but technology isn't quite there yet. The point of pressure washing, though, is to make sure your home looks as good as your yard does. Otherwise, you've got a very noticeable imbalance in your property's curbside aesthetic.
Tips for Doing It Yourself
If you want to do your own sod installation in St. Louis, you can take more ownership over your property. It might even be simpler than you think if you follow the right steps:
Pick the Right Sod

: Pick the best kind of grass for your location and what you're looking for. Anyone on your block with a green thumb might have some good suggestions, and your local nursery can probably help, too.

Measure the Area

: Measure the space you want to sod and not the whole yard. Take note of the length and width. Multiply both together for your square footage, but subtract what won't be needed for walkways, pavement, and buildings.

Get the Soil Ready

: Make sure the soil is graded to slope away from buildings and foundations. Destroy any current vegetation if you are redoing an existing lawn. Apply lots of water to find and fill puddling spots.

Schedule Your Delivery

: Schedule the sod to show up after you have done all the prep work but also on a day when you can install it. Sod doesn't last long on its own, so apply it immediately.

Install the Sod

: Water your soil to dampen the bare spots. Keep unlaid sod in the shade if it's hot outside. Stretch your sod pieces lightly, but pack them together tightly to avoid gaps. Don't overlap them. Go perpendicular across the slope.

Water Often

: Start watering your first section half an hour after installation starts.

Keep Watering

:

Remodelaholic

says you should water every day for the first 10 days before cutting back so it has time to root properly.

Mow When It's Time

: As soon as you see something to mow, do it. Don't put this off too long. Just make sure your first time you cut high. Lower the mower deck height deliberately with subsequent mowings.
The Best Times to Do Sod Installation in St. Louis
Live in Missouri long enough, and you'll hear the inevitable joke: "Don't like our weather? Give it a minute." Weather conditions change frequently here, and that might make it seem confusing to know when to do something like sod installation in St. Louis.
Early spring when the soil starts warming is usually the ideal time to do sod. March is generally the time you start seeing existing grass grow. Sod then if you can. Waiting until later might make it too hot and dry for the sod to take. Fortunately, it only takes sod about two weeks to fully germinate.
The best kinds of sod will be based on your specific soil conditions, but in Missouri, three tend to have the best chance:
Bermuda

: It grows well in a warm climate and doesn't turn brown after getting cut.

Fescue

: This one thrives during cooler weather.

Kentucky Bluegrass

: This option is quite drought-resistant, so it fares well when competing with high grass or planted in soil that dries out easily.
Best Practices
Whether you do it yourself or have professionals handle it for you, there are some best practices you should know about. This Old House has tips from professional sod farmers you should know.
Soil Testing

: This is a must before applying sod. You can do it any time of year, but spring and fall are best.

Buy a Soil Probe

: You can get these at most home and garden departments or stores. Use it to check your moisture levels. A good watering dampens the soil 3 or 4 inches down.

Sodding Curves

: Sod is usually designed for straight lines and not curves, but if you have such an area to apply sod, then don't cut too many pieces. Smaller pieces are more likely to get dried out and then die.

Water as It's Installed

: Sod is perishable. It also dries out fast. Sod farmers often cut the turf during the night for easy same-day delivery and installation. Think about watering your sod starting with the first big patch you put in and keep the sprinkler moving while you do more. This should help maintain moisture.

Mind the Shady Areas

: Grass grown in shade isn't as strong as the rest and will be more susceptible to various diseases as it has more dew coverage. Water these spots less frequently. Also, reduced their fertilizer by about 25 percent.
Knowing When to Call in a Professional
Whether it's your initial sod installation, putting in sprinklers, or just handling lawn care after the fact, it's good to know when to bring in professional help:
Preparation

: Improper preparation can mean serious headaches later. Professionals are far less likely to waste sod.

You Don't Have Time

: Your life is likely as busy as every other homeowner up and down your block.

Professional Application

: Even if you think you can get your sod to take, are you sure you won't accidentally leave gaps in the layout?

You Want the Best Stuff

: Professionals won't just install sod better than you most of the time. They'll also know where to find high-caliber sod.

Save Money

: Professionals have access to volume discounts and can pass the savings on. They'll also get the work done faster and with fewer mistakes or issues.
Key Takeaways
Having read all this, you should know quite a bit more about sod installation in St. Louis, including:
What it is

The benefits

Other lawn care activities you should take

When to call professionals

Tips for the DIY approach
Whether you go solo or call service in, make sure you support your sod installation with one of the available lawn sprinkler systems in St. Louis. Allen Outdoor Solutions is here for you for any of your lawn care needs. Check out our services, and don't hesitate to reach out with any questions.
---