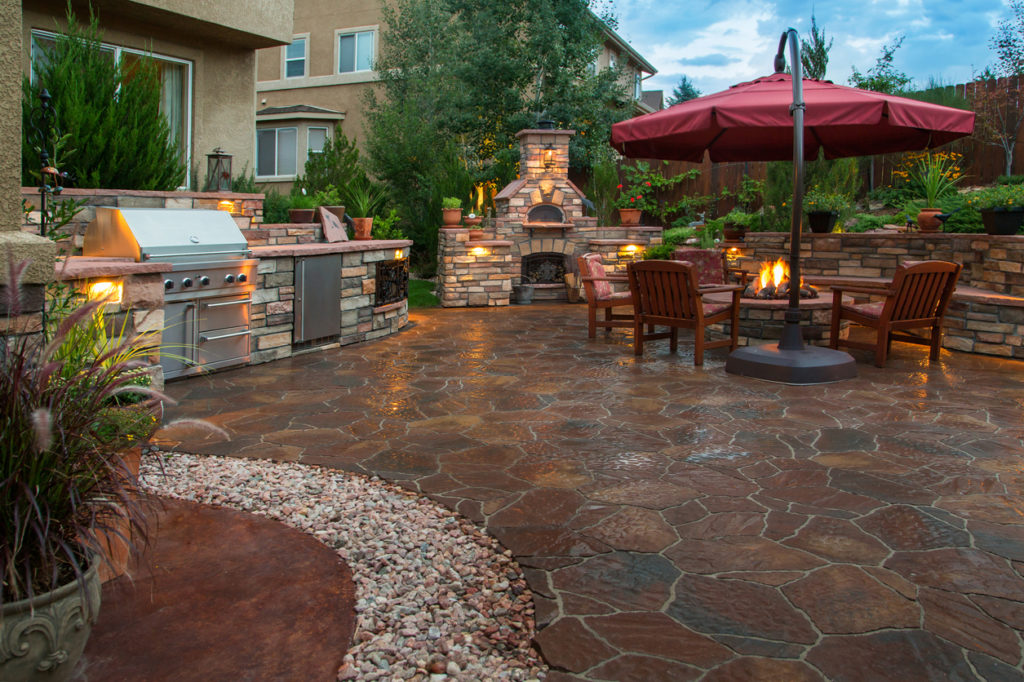 An inviting backyard with a functional, beautiful patio is on the top of most homeowners' wish lists. If your outdoor living space isn't the stuff of your dreams, there are easy updates and quick fixes that will make a world of difference.
Whether you want to DIY or bring in the pros at Allen, these updates will make your outdoor living space look Pinterest-perfect.
1. Bring in textures through textiles.
Rugs and pillows don't just belong inside! Make your outdoor furniture more comfortable and inviting with water-resistant furniture cushions. Instead of sitting on hard metal or wood, your guests will love lounging on a cushy couch. Spice up an outdoor couch, chair, or chaise with throw pillows in fun colors and textures as well to make your outdoor space look as good as your living room.
2. Add extra greenery.
Don't forget to look down: Outdoor rugs can ground an outdoor living space and draw attention to a singular focal point. Outdoor rugs are created to withstand all types of weather, so you can leave it outside for much of the year, in rain or shine.
You likely have a great lawn and some landscaping in your yard, but greenery doesn't need to stop there. Talk to the gardening experts at Allen Outdoor to find out which plants will thrive in planters on the patio.
With a mix of annual and perennial flowers and greenery, you can make your outdoor living space a beautiful and natural extension of your garden.
3. Take advantage of height.
When you're outside, look up! Do you have a covered porch, pergola, trellis, or even some trees near the patio? These are excellent places to add more interest. Think about adding one of the following to turn your outdoor living area into an intentionally designed space:
Hanging planters
Mosquito nets
Light drapes to create a fabric wall
Weather-safe bistro lights
Colored lanterns
4. Light up the night.
Speaking of bistro lights and lanterns, lighting can make a world of difference in your outdoor living space. Whether you want an extra bit of security or just some ambiance, professionally installed lighting is a useful and beautiful way to upgrade the outdoors.
Create an outdoor space where you can entertain all night with lights along your walkways and patio perimeter. You can choose from LED or solar-powered lights; both are energy-efficient options that will save you money on energy costs while giving you the look you want.
Our service technicians can come to your home and make recommendations based on your existing outdoor set-up and budget.
5. Take your patio up a notch with hardscaping.
Most people have standard cement or concrete patios. Raise the bar with professionally installed pavers. We can make your patio stand out from the norm with simple or elaborate hardscaping designs made from a wide range of materials.
For a more natural look, maybe you'll want large stone pavers without any real pattern to it. These pavers look great with stone steps and retaining walls.
To create a polished presence, you can add in custom tile or brick pavers. We can create any sort of pattern that will keep your patio looking great all year round.
And don't worry about weeds or grass growing through the pavers. Allen Outdoor lawn technicians can remove weeds and keep them gone for good. Choose one of our lawn maintenance plans, and we'll make sure that your entire yard—from grass to patio—look picture-perfect every time.
Want to learn more about how Allen Outdoor Solutions can help you update your outdoor living space? Give us a call today to discuss options!
---