Valued Customer,
Allen Outdoor Solutions is a full service company providing top notch service and employing professionals with special skills in their field. My name is Karl Deuser and I have been the turf, tree, and shrub care specialist at Allen Outdoor Solutions since May 2012. I started in the lawn care industry in 1968. In 1974, I joined a landscape company where I took great interest in the lawn care division. After almost a decade of honing my turf care skills, I was introduced into the tree and shrub plant healthcare field. Near the end of 1985, I became a licensed applicator with the state of Missouri; license #C5186. Since receiving my license, I have been one of the highest respected applicators in the Greater St. Louis Area. I also have a Mauget Tree Injection license. I am involved with the Missouri Turfgrass and Ornamental Counsel, the University of Missouri – Columbia Annual Field Day, the Meremac Community College Annual Field Day, as well as working with various university professors in the Midwest. With my experience and continued education, I achieve great results.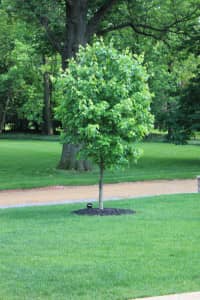 To make Allen Outdoor Solution's desire of becoming the best turf, tree, and shrub maintenance company in the area, they recruited me and my skill-set to make this desire a guaranteed reality. I bring passion, knowledge, experience, and wisdom to the table, and I will use these tools to make this division grow into the most reliable and recommended program in St. Louis. Too many in this industry favor quantity over quality, but I take pride in every property I manage and strive to make them worthy of the finest portfolios.
Ranging from turf insect control to ornamental bed maintenance, our extensive array of services can meet the needs of even the most unique properties. At a minimum, I always recommend a steady, six-step fertilization program and I highly suggest starting with a soil sample. Based on the needs of each individual client, I recommend additional services, but only when they are truly necessary. Some of the additional services include: Nutsedge Control, Broadleaf Weed Control, Grub Control, Aeration & Overseeding, and Disease Prevention.
The turf, plant, and tree care division also includes what you would think of as 'landscape maintenance'- Shrub Trimming & Pruning, Bed Mulching, Bed Detailing, and Ground-Cover Maintenance. We also provide tree care services like Deep Root Fertilization, Transfilm Applications, Trimming, Dead Wooding, and Insect & Disease Prevention.
I look forward to working with you personally, I am always on a site or readily available on my cell phone at (314) 713-0573 or you can call our office at (314) 647-4800. Make 2014 the best year yet for your lawn, plants, and trees.
Thank you,
Karl 'Fert Man' Deuser
---